Jam 'Ole Run 2020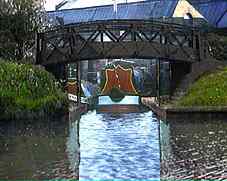 The Jam 'Ole Run along the Grand Union celebrates the trips Nutfield and Raymond, and other narrowboats, made delivering coal from Atherstone in Warwickshire to the Kearley & Tonge jam factory in Southall, north London. The Jam 'Ole itself was a short factorty spur off the main line. (The photo shows Nutfield and Raymond in the 'Ole).
This year's Run marks the 50th anniversary of the last Blue Line delivery to The Jam 'Ole.
The flotilla will leave Braunston on Saturday 26th September, with a run to Atherstone and back, then leave Braunston again on the 27th to arrive at The Jam 'Ole on Sunday 3rd October, and be back at Braunston on Saturday 10th October.
Nutfield is on loan to the Narrow Boat Trust for their Autumn Coal Run, so Raymond will be paired with Stanton. There will be three other motors, Renfrew, Cepheus and Purton, plus our Treasurer's narrowboat Fandango in attendance to provide extra accommodation. Ex-Blue Line motor Roger will join in from Rickmansworth to the Jam 'Ole.
Look out for the flotilla during that fortnight and give them a wave if you see them.
Use the "Search this site" facility to find posts about previous runs – the first was in 2002.